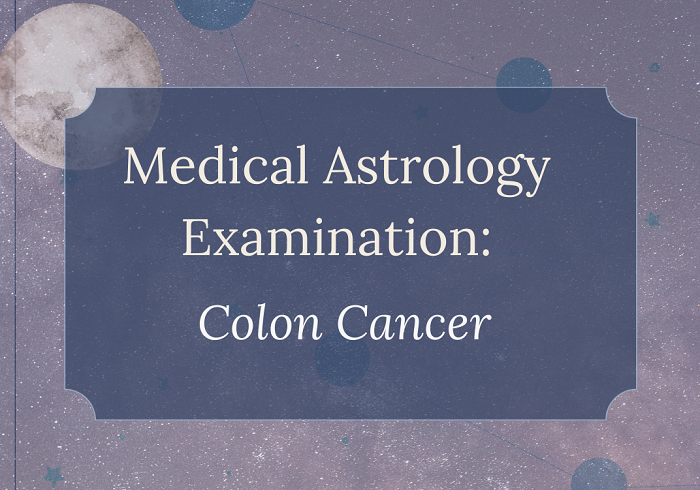 Recently I had exhausted my personal pool of charts for looking at colon issues, so I was searching for more case studies. While looking, I came across something that reminded me of what most people are working with when they talk about medical astrology. Most of the time, people just seem to be grasping at straws or working with very loose patterns that are only true part of the time.
As I read the paper, I saw an opportunity for me to compare the techniques and principles I use with the ones given in the paper. It was a very impromptu video, but now that I have time to type, I'd like to comment on a few things:
In the video, I stated Mars doesn't indicate anything when it comes to the colon. This is true in that Mars does not represent the colon or the digestive system. However, I have also researched ulcerative colitis, which usually does involve Mars (in very specific ways) due to the nature of the illness being inflammatory and often involving bacteria. Just wanted to clarify that.
Another thing I wanted to say: I mentioned the person was noticing a pattern with Scorpio in the research of the colon but had not figured out why exactly Scorpio comes up or which planet is the true culprit. Scorpio does not come up because it has an anatomical association with the colon. It comes up because Moon in a bad deeptadi avastha influencing a sign of Venus gives colon trouble. Scorpio is one of the more common signs where Moon is in a bad deeptadi avastha and aspecting a sign of Venus.
There are ways to get more specific with the different types of colon issues, but this video was intended to just address the indications given in the paper for colon cancer. I teach these principles and techniques in my Decoding Your Health course, which I'll be talking more about soon.
Thanks,