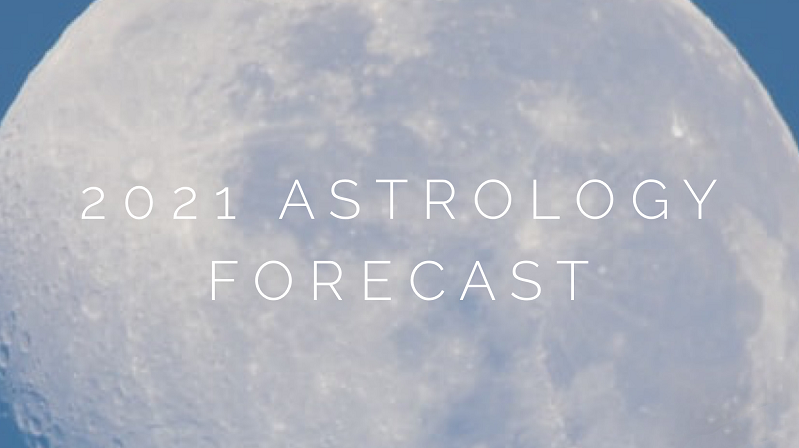 Hi everyone, the last month I've been working on a forecast for 2021, which is now complete. In the future I will probably call this my annual "Star Oracle" but I didn't want to be too cheesy/fluffy. Anyway, let me tell you all about it!
Many Astrologers keep busy forecasting throughout the year on a monthly, weekly, or sometimes even daily basis. I've never been particularly drawn to this use of Astrology, preferring to study people or focus on long-term projects. This sometimes makes it look as though I am MIA – but I am working on ebooks, downloadable reports (that I hope will see the light of day next year), and of course, giving readings.
That being said, forecasting is a nice little brain teaser for Astrologers. And, if you're bold enough to actually try to predict events, then it's a nice personal challenge as well.
This 2021 Astrology forecast is my own spin on forecasting – it's a blend of Astrology, Numerology, and other divination tools. When I'm using multiple symbols/tools and I see them overlapping and agreeing with each other it produces a stronger message. This forecast lists all the important planetary transits, aspects, and lunar events – including eclipses. When putting together the meaning of what I see, I like to include little reflective prompts or pieces of advice. I always attempt to tie things into what is happening internally.
This guide is 17 pages (not counting the cover/back/about sections) and consists of this:
Intro
How to add up your personal year number
How to add up your personal monthly numbers
Major themes and overview of 2021
A page of information for each month
There is a picture of one of the monthly pages on the product page to get an idea of what to expect. You can view the 2021 Astrology Forecast/Astro-numerology guide here. I also added a link in the sidebar, you may have noticed the image
A lot of my readers use sidereal zodiac, so I would like to clarify that this forecast uses the tropical zodiac. I understand that in knowing that you may not be interested.
I will be sending this out in my newsletter soon and including a discount code for those subscribed. If you have not subscribed, there is a box towards the top of this page. Keep an eye out!
Thanks for reading,