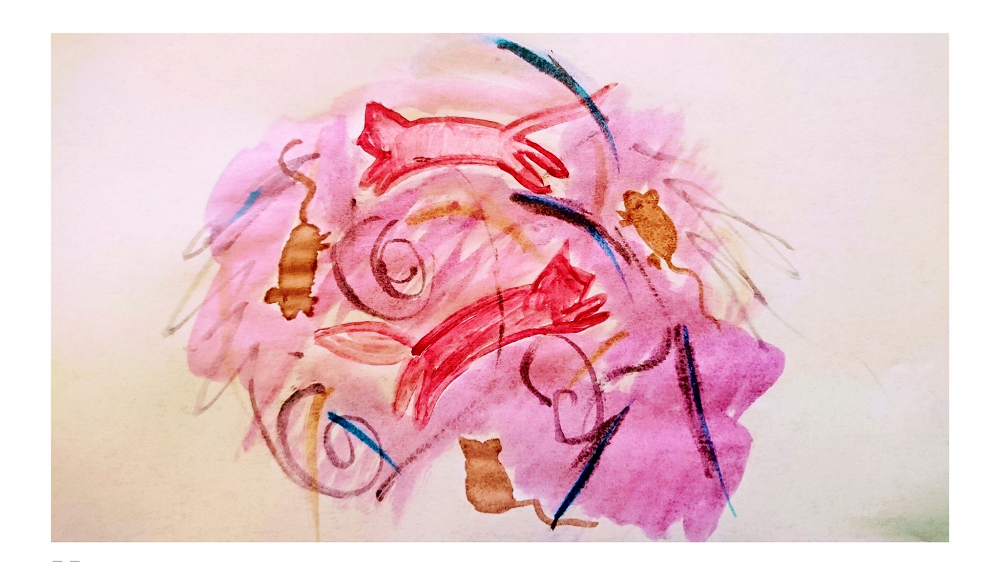 "When the Atmakaraka is in Aries Navamsa, fear is produced and one is wasted into despondency by the besiegement of rats and cats. A malefic joining makes this more certain." – BPHS, Effects of Karakamsa, (Translated by Ernst Wilhelm)
As you can see, understanding the meaning of the svamsa rasi takes quite a bit of contemplation and chart analysis. Based on Parasara's description above, and Jaimini's even shorter sutra, we might think the person is literally plagued by rats and cats.
Rats and Cats also represent conflict and the cycle of doing what you need to do to survive. The cat is chasing/killing its prey for survival and the rat scavenging, running, and hiding. So, the Aries svamsa person may find themselves having to do what they need to survive, or burdened by the conflicts of those around them. These individuals find themselves needing to cut ties with others, gain independence, and overcome the "animal nature" of the mind which is overcome with fears of survival and self-preservation.
Aries Svamsa can feel as though their lives are plagued with problems that interfere with their greater aspirations. The person feels they have a greater mission or passion in life to pursue, but having to survive and deal with interpersonal conflict around them often interferes with their progress.
I have found that many Aries Swamsha deal with poverty at some point in their lives and struggle to have their basic needs met. This fits in with rats representing that low place in life where one must steal and scavenge to meet their needs.
It's important to note that Jaimini's description of the svamsa rasi focuses on afflictions. While some are more difficult than others, each show challenges to overcome in order to find fulfillment.
The rat is thought to represent our base desires, and because Jaimini uses the number 5, Panca, this symbolizes the 5 elements and 5 senses that we aim to please. During the time these Sutras were written in India, the cat was symbolic of fake ascetics or hypocrites. Aries svamsas may struggle with "impostor syndrome" or feeling as though they can only reveal parts of themselves. One of the primary lessons for those with this swamsha is being who they truly are despite societal pressures, and following their purpose while also trying to survive and meet interpersonal obligations.
Oscar Wilde has his swamsha in Aries, and it's apparent his novel The Picture of Dorian Gray was inspired by his personal struggle with morality and indulging the senses. Some say he lived a double life, and he said himself that the three main characters represented three aspects of himself. His famous play The Importance of Being Earnest is a commentary on being your authentic self and not living false truths.
If you need help finding out your Svamsa sign, read my article on the importance of the Svamsa. Then you can use the chart calculator to see your D9 chart to find it.