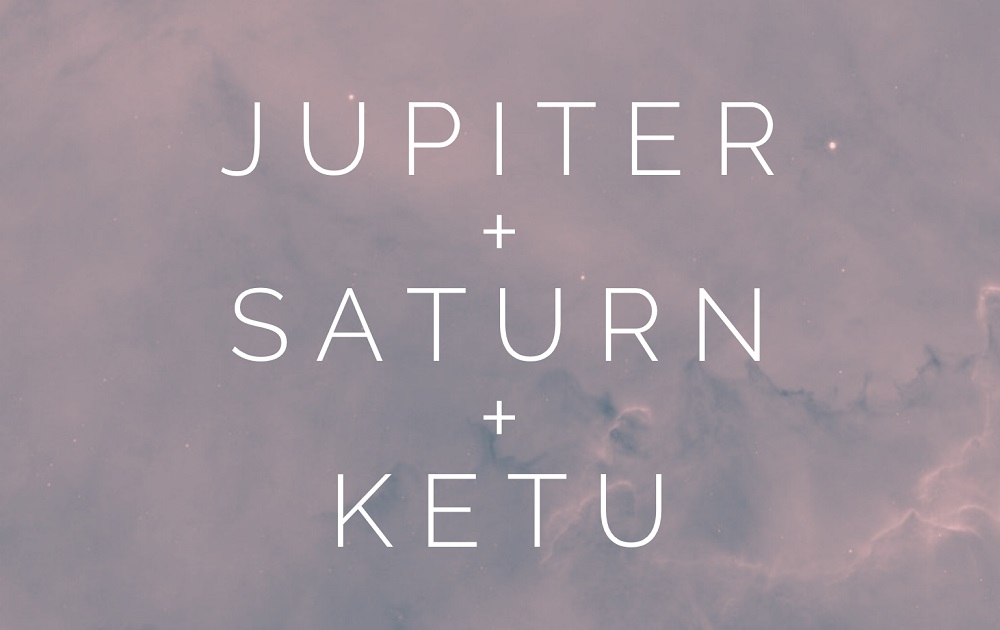 Many are wondering about the effects of the upcoming Jupiter, Saturn, Ketu conjunction. I wanted to share my thoughts on some lessons we'll be learning collectively, as well as the effects of Jupiter in Capricorn. I also share how you can help during times of upheaval.
Why Jupiter is Debilitated in Capricorn
Jupiter becomes debilitated in the sign of Capricorn because here the qualities of Jupiter are being expressed through the consciousness of Saturn. Jupiter is our sense of innate joy, our beliefs, and how well we are able to pursue what inspires us. Saturn's role of restriction, fear, and limitations suppresses Jupiter's desire to be expansive and full of hope and inspiration. Jupiter conjunct Saturn or in the sign of Capricorn creates a lot of "highs and lows" as the person gets excited about something, but then doubts their abilities.
Rather than working towards something out of pure inspiration, Jupiter in Capricorn is more likely to pursue something because they fear judgment, or because they think they should. This could either be from a sense of duty, obligation, or from overcompensation. They struggle with a sense of purpose and get discouraged if they don't feel their ideas are original or "grand" enough.
What I see often with Jupiter in Capricorn is growing up with restrictions and fear around their belief system. With this placement, a person's beliefs or experience with religion are more defined by rules and limitations rather than aligned with freedom, love, light, and joy. God is seen as judging, rather than a God of pure, infinite love which dissolves all judgment. Cults and fanaticism are possible with this if the 9th house and lord are negatively impacted.
2020 Jupiter, Saturn, Ketu Conjunction
This rare conjunction soon to occur between Jupiter, Saturn, and Ketu shows a breakdown of ideologies that produce fear and judgment in society. In Capricorn, Saturn becomes strong and Jupiter weakens, and Saturn also starves Jupiter. As far as world events go, this can be a turbulent time and the economy is likely to worsen in 2020. When Jupiter becomes starved, people lose sight of the big picture and can give into fear. Because Pluto is part of this conjunction, lots of the issues will be felt globally and through all generations, not just in one particular area.
In the grand scheme of things, lots of negative emotions are coming to the surface. This time is like a "healing crisis." A cleansing, purifying process is underway, but first, collectively we'll experience the intensity of old/ outdated ways doing things collapsing.
Ketu's presence in this conjunction serves as a transmutation of these two opposite energies coming together. Ketu is the out-breath, it shows what we are in the process of letting go of. These two heavily karmic planets coming together show that we're in the process of dismantling outdated beliefs and hierarchies. Amongst the public, the ability to stay optimistic will worsen as Jupiter transits through Capricorn and resolving issues of fear will come up.
It is important not to lose sight of the bigger picture. The world may seem full of chaos during big transitions, but much depends on what we contribute as individuals. During times of political and social turbulence, positive thoughts and acts of kindness are so needed. When we see people worrying or flinging insults, do we not feel more fearful and negative ourselves? There is tremendous power in the energy sent out; it ripples throughout our collective consciousness and builds our reality. Staying centered in ourselves, dissolving fear with love, surrender, and courage will help get us through.
Be kind, be positive, be flexible, even when it's hard, and especially towards those who need the reminder.
Peace,