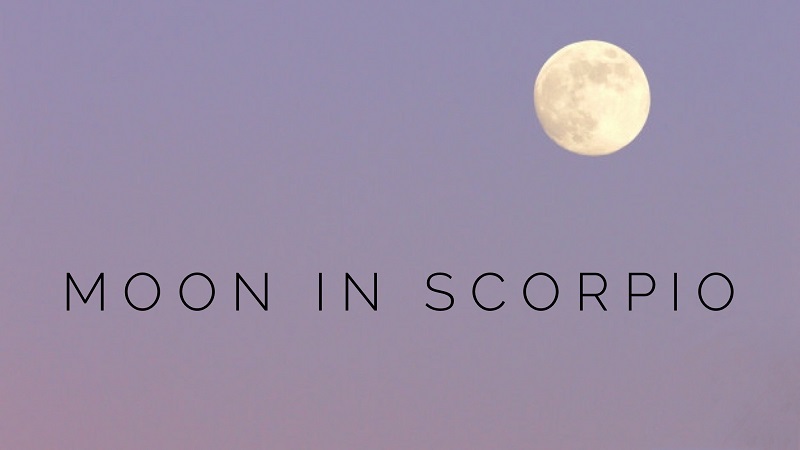 The Moon is an adaptable and impressionable planet that is strongly colored by aspects and conjunctions from other planets. These influences give different qualities to the moon that can sometimes contradict its zodiac sign placement. I've always worked hard to understand the essence of each sign, which means taking all other influences into consideration (such as house placement and planetary aspects). I am intimately familiar with Moon in Scorpio, and want to provide some insight other than the traits we hear most often (though there's definitely some of that in here).
Scorpio Moons Contain the Energy of Mars
The emotions and mind of the Scorpio Moon native is being influenced by the consciousness of Mars. Mars is logic, willpower, action, and the strength of one's convictions. Those with Moon in Scorpio have technical and strategic minds and prefer to handle things logically. However, behind that logic is an emotionally charged person with a great deal of emotional energy invested in whatever they choose to focus on. They are passionate with strong convictions and have the martial spirit to defend those convictions.
Many Scorpio moons are natural "chess players." I'm always impressed with how many steps they have planned in their head before taking action. This is the Mars quality when ruled by Scorpio, as opposed to Aries Mars energy, which typically dives in and thinks later. Scorpio Moons are strategists.
There just seems to be an instinctual understanding of the advantages of being partially hidden, or not showing all their cards. That becomes part of their tactical approach to a lot of things. In the charts of more aggressive people, this moon sign is a formidable opponent when it comes to strategically overcoming "enemies" -think office politics, divorce settlements, lawsuits, etc. But mostly, this is a person who feels a sense of security by keeping their feelings and motivations to themselves.
So, while this is an intuitive and watery Moon sign, there is a distinct sharpness to Scorpio Moons that comes from this Mars influence. Temperament is often "pitta": determined, intelligent, and penetrating. As the depositor of the Moon, the strength of Mars is important in determining courage and fortitude.
One of the lessons for Scorpio Moons is to learn to use the courage of Mars to face their own emotions and the deeper triggers of those emotions, rather than get stuck in emotional battles with other people.
Scorpio Moon in Love and Sex
If your Moon is in Scorpio you crave and need deep intimacy. There is a willingness (or desire) to bond through intense experiences and emotions. Scorpio moon doesn't feel overwhelmed or scared away by raw displays of emotion and innermost secrets.
Scorpio Moon's have a strong attachment style. This is your "ride or die" Moon sign. Keeping things light and causal will not work for them. If they don't feel like they can penetrate through to something deeper, they'll move on. Intimacy and knowing you deeply is the key to to their emotional security, without it that insecurity breeds possessiveness, paranoia, and neediness. They typically (but not always!) have all the usual traits of an 8th house "love style" but whether or not they approach it in an emotionally healthy way depends on what the rest of the chart indicates.
They can come off as a bit intense or "all in" too fast. As with everything else they're interested in, they want to know things thoroughly, including their love interests. The Mars quality also makes them move quickly in securing a partner they're interested in.
Not all Scorpio moons ooze sex appeal or are fixated on sex. There are a lot of other influences that go into astrologically dictating sex-appeal or frigidity. However, their air of mystery, passionate nature towards their interests, and emotional depth usually make them magnetic people.
Moon in Scorpio and Intense Emotions
As a fixed sign, emotions here can become stuck and aggravated. After all, emotions are just thoughts that haven't been abandoned. And that is where you find the explanation for the intensity of Scorpio Moons – they are prone to fixation.
Their intensity also stems from their level of emotional investment into things. They get fired up about their work, their loved ones, their hobbies and opinions. If you tell your Scorpio Moon friend about the coworker who mistreated you – watch them get outraged with greater emotional investment than even you.
In childhood there was a lack of emotional safety, a lack of the kind of close-bonds and intimacy with their parents they needed to feel connected and secure. This lack of emotional safety growing up taught the Scorpio Moon native to keep their feelings hidden. It also sends many on a quest for intimacy that was lacking in childhood. There are often themes of controlling parents, or parents who did not respect privacy and used information gained from breaches of trust and privacy against them.
If emotions get too bottled up, they seek out cathartic experiences for release, and also understand a person's need to do so. The genders experience this intensity in different ways – higher testosterone causes more physical displays of anger and emotional release. Otherwise, they can be very sentimental, feel things strongly, and emotions tend to be a point of fixation.
Many people with Moon in Scorpio have not learned to understand their sensitivity. As a water sign and sign associated with the 8th house, they pull in a lot of "emotional undercurrents" and information via intuition. It's important to be aware of this and how this sign absorbs the emotions around them. This is why this sign is naturally so psychologically gifted. They know how people "tick" because they are empathing the emotions and motivations around them.
Why is Moon Debilitated in Scorpio?
Taurus is the Moon's sign of exaltation, while opposing sign Scorpio is where the moon becomes debilitated. However, true delibitation only occurs within the first 2 degrees of Scorpio, and without debilitation cancellation. But why is the moon debilitated in Scorpio?
This has to do with the Moon being a planet of getting our needs met. The Moon is exalted in Taurus, because Taurus is a sign of meeting its own needs through its own resources. Scorpio, on the other hand, as the ruler of the 8th house represents needs that we get from other people and other people's resources. Sex as an act is part of the pleasure we receive from union with others. So, part of the nature of Scorpio is to attempt to get his or her needs met through others. In other words, outside ourselves. Unsurprisingly, relying on others to fulfill your emotional needs can be painful.
This moon sign, far more than others, has issues around sex to work through. Particularly getting emotional needs fulfilled through sex.
I hope you enjoyed this brief examination of Scorpio Moon!