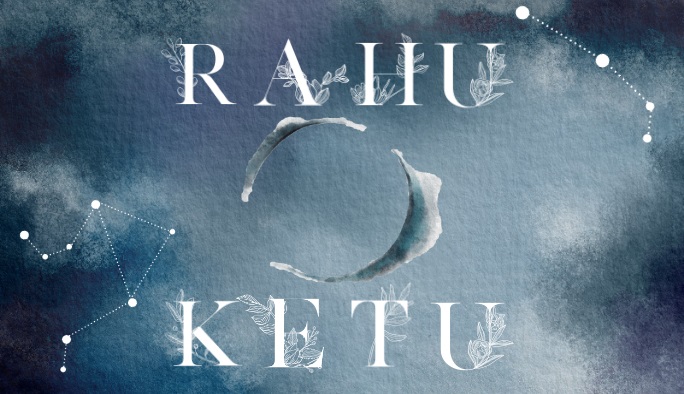 As mentioned in my recent article on Rahu and Ketu, the nodes of the moon show the evolution of our consciousness. Today's article gives the meaning of Rahu in the first House and Ketu in the seventh. Understanding the nodes in your chart helps you advance your soul's path in this lifetime. A simple way of putting it is Ketu is where you want to focus, but Rahu is what you must accomplish.
Rahu and Ketu in the 1st and 7th House Axis: Lessons around Self and Partnerships
Rahu in the first and Ketu in the 7th is all about developing individuality while balancing the needs of others. Ketu shows our past life skills and sense of security, whereas Rahu shows our lack of experience. This axis is all about self-development by detaching from social development.
The psychological effects are the same as Rahu in Aries and Ketu in Libra. Aries is all about acting out of self-interest. Unlike Libra who desires to trade and exchange with others, Aries prefers to be as self-sufficient as possible. There needs to be a balance between your needs and the needs of other people.
Meaning of Rahu in the 1st house
Since the nodes show events outside our control, Rahu on the lagna (ascendant) means life is marked by many fated events. With this position, life is dedicated to developing personality, self-expression, and even self-mastery. Though they hide it well, those with Rahu in first lack confidence in their ability to succeed independently. For this reason, they often see other people as the missing piece of what they need.
With Rahu in the first the native will rely on their relationships and the opinions of others to help define themselves. The more they interact with others, the more they get a sense of who they are. The lesson for Rahu in the 1st is to learn how to think and act independently. The more they march to the beat of their own drum (not depending on the ideas and input of others) the better Rahu is working. If Rahu isn't working well in the first house, the person can be prone to "identity crisis."
Rahu on the ascendant can make a person stand out, either as an outcast or as a dynamic personality. The lord strength and conjunct planets show whether they're more odd or charismatic. Either way, life is never ordinary with Rahu in the first house.
The North Node also represents all things foreign. Rahu in the ascendant makes a person connected to foreign things in some way, whether residence or foreign interests. This contributes to them feeling "out of place" or like an outcast.
Ketu in 7th House
Ketu in the 7th shows that in past lives there was an emphasis on partnerships and relating to others. It shows a socially developed person who knows how to benefit from the skills and knowledge of others. This isn't to say they take advantage of people, but they're secure in give-and-take relationships. They can easily connect with others and would rather work in teams than alone.
These individuals are very relationship oriented with strong interpersonal skills. They have a good sense of business, trade, and equality. Typically in marriage, they become frustrated that their partner isn't as "into it" as they are. Remember that Ketu shows the areas of life where it is hard to feel fulfilled.
Problems arise when the Ketu in 7th person is left on their own. This is when they lose confidence in their own abilities. When they're left with their ideas and skills their insecurity starts to creep out. The lesson is to turn inward and follow your own thoughts and path that isn't dependant on someone else.
Famous People with Rahu in the First House:
Salman Khan
Oprah Winfrey
Jiddu Krishnamurti
Leonardo Da Vinci
Martin Luther King
Meghan, Duchess of Sussex
Remember that Rahu and Ketu always give the effects of their Lords and the planets they are with, as well as Saturn for Rahu and Mars for Ketu. Judge the condition and dignity of those planets and you'll have a better idea of how well they're working in your chart.