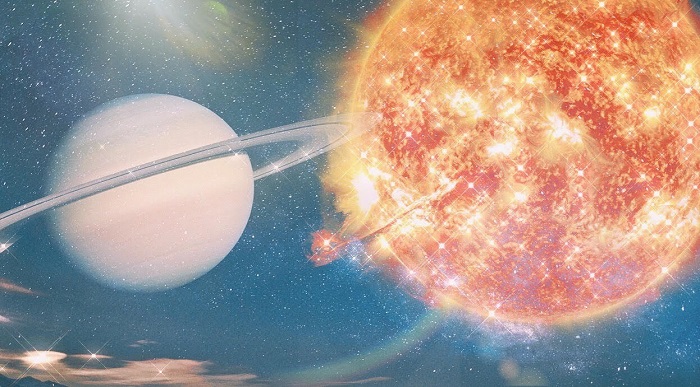 Psychology and soul lessons of Sun conjunct Saturn, from my brain to yours.
–
Out of all the planets, the Sun is the closest one we have to perfection. It is the atman, the brightest, the King, it is the point that all other planets revolve.
The Sun only really has one failure: Saturn. One of the Sun's duties is to take care of those weaker than himself, and Saturn represents that part of the kingdom that is overlooked, uncared for, and beyond the help of the sovereign. Saturn is considered to be the son of the Sun. But, out of the 7 starry planets, Saturn is the farthest from the Sun, the one barely receiving his warmth and light. This lack of warmth or the feeling of being overlooked is something the Saturn conjunct Sun person feels in their core. A lack of warmth and presence from the father is almost always an issue. I know many kinds of Saturn conjunct Sun individuals, both gentle and stern, but below are the major themes I find most often. Keep in mind that the nodes or other planets with this conjunction add their own influence.
Sun Conjunct Saturn: An Awkward Reunion
The feelings between Sun and Saturn are mutually unamicable. This is partly because they perceive the world from opposite spectrums: one from the thrown, and the other from the ditch.
When in conjunction, the Sun is reminded of all the inherent restrictions of life and often feels thwarted by fate (Saturn). Sun just wants to express itself completely uninhibited but is now stuck with a poor, dejected, lame member of society. Basically, Saturn is a constant reminder of all the depressing and unfair facts of life. Symbolism aside, those with this conjunction feel held back by people in their life, or have to spend time with the underprivileged at some point. This is part of their karmic experience.
And now imagine Saturn personified in this conjunction – in the presence of someone he can never live up to, reminded of the radiance and warmth that was never extended to him. This conjunction is uncomfortable, as though the tension between the bold and weak, the capable and incapable, is ever-present in the person's mind.
Effects of Sun conjunct Saturn
The Saturn/Sun conjunction makes some of the world's best critics – of themselves as well as critics of society. The Sun only looks up, and Saturn only looks down, so this creates an interesting perspective – one that tends to focus on an ideal and how everyone is failing to reach it. It's very fascinating if you think about it, and explains why this conjunction produces some very strict perfectionists. If Sun is otherwise strong, they push hard to meet their ideals. However, they can also get discouraged easily if not living up to their solar ambitions and struggle with inertia.
As you can imagine, this conjunction creates an "old soul." Maturity and an innate sense of seriousness or formality seem to be traits gathered from prior lives. Adolescence was also not particularly light-hearted or silly. Childhood was full of restrictive experiences, or their natural way of being was not validated and accepted. This experience fostered the habit of repressing or judging themselves. After all, Saturn is the judge, so when it's conjunct the Sun naturally, a person becomes quite hard on themselves. If you have this conjunction, your soul has reached a stage of experiencing a major ego breakdown.
Positive Qualities of Saturn-Sun Conjunction
Those who are in control of themselves tend to command the most respect, and many people with this conjunction have this quality. They also tend to project authority, or strength, or at least competence, even if they don't realize it.
They also tend to be conscientious. The ability to direct their efforts is often good, which gives them the staying power and focus required to achieve great things. They identify with their responsibilities, making them very reliable. There is a strong personal association with Saturnian qualities of stoicism, work ethic, and perseverance.
Here is a quote by Bill Murray, who has Sun + Saturn conjunction, in response to his friend telling him he has a reputation for being "difficult to work with":
"But I only got that reputation from people I didn't like working with, or people who didn't know how to work, or what work is. Jim, Wes and Sofia, they know what it is to work, and they understand how you're supposed to treat people."
In that quote, he mentions 3 directors that know "what it is to work and how you're supposed to treat people." Two of them also have Sun conjunct Saturn, and the one that doesn't has an exalted Saturn and Sun in a sign of Saturn. It's a very funny demonstration of how the Saturnian capacity to work is on another level from most people, and there needs to be a Saturnian resonance for people to "get it."
Soul Lessons for Sun Conjunct Saturn
Ideally, the Sun's only identification is with the truth of itself, which doesn't need to be anything other than what is naturally flowing through you. When you're totally at peace and full of solar confidence, there is no "criteria" to meet outside of yourself. Few people naturally have this kind of solar strength, but the Saturn-Sun conjunction feel this restriction to a strong degree. They are nearing a stage of completion when it comes to ego-identification, and this life is serving to break down the ego, which is…painful. This comes from a sense of inadequacy, unmet expectations, or not being able to live up to the pressure placed on themselves.
Here are some suggestions for those with this conjunction:
Take it easy: We place a great burden on ourselves when we assume responsibility for everything. This lifetime is serving you a big slice of Humble Pie that is largely outside your control. Consider the possibility that your perception of yourself is more critical than it needs to be, and go easy on yourself and others.
Laugh more: Laughter releases endorphins, eases tension and inhibitions, reduces stress, and is important for all Saturnian people. If you have this conjunction, you may have to remind yourself to make time to laugh, just like an exercise. The more you approach life with a sense of humour (because life really is a joke, sometimes a cruel one) the easier you'll be able to see the world with a relaxed and positive perspective.
Self-Compassion: There is a refreshing sense of wellbeing that comes from ending internal conflicts with yourself and others. Many conflicts within require you to get in touch with your heart and the root issues there. Be compassionate with yourself.
Take some risks: For those who are the more cautionary Sun/Saturn types, you'll never know the full extent of your abilities without taking a plunge. Action taken now leads to success and rewards later in life. If you have already done this – good job!
Lead through acts of service: This is something that can become very empowering for people with this conjunction. Your leadership will most quickly be recognized when you approach it from a place of service.