The equinox's always have a sense of renewal with them, so I figured I'd do a little card pull with three messages to take with you. If you've found your way here, perhaps there is something the universe wants you to know right now.
Take a moment to look at the cards above and choose the one you're the most drawn to. The meaning of the crystals aren't really of importance, they're just meant to differentiate the cards and draw your attention. Once you've chosen, scroll down to the card you picked. Your message should have relevance to what you're experiencing right now.
Card #1 You Are Not Alone
-Isolation, Loneliness, Community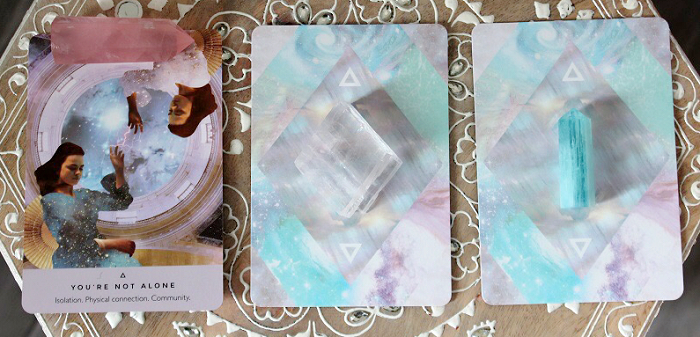 Considering that much of the world is currently in quarantine, this is a rather fitting card pull. You may feel isolated, or have a lack of like-minded friends who understand what you're currently going through. You may be dealing with something completely outside of your control right now and needing extra support. Your message from the Universe is to know that you are not alone. Know that there is support for you at all times in the higher realms, but you have to ask for assistance.
This card is also encouraging you to take action in finding your community. There are people who "speak your language" and can give you the support and sense of belonging you need. Why not look for opportunities to forge new friendships? This may require you to be more open and vulnerable in your relations with others. Don't close yourself off.
This is a card of comfort, and the Universe, your deity, or your angels and guides want to offer you some peace, to take some of your worries and fears away. You are loved, cherished, and fully supported. The uncertainty of what you're going through will eventually lead to greater wisdom and clarity.
Card #2 – Child of the Cosmos
Wisdom, Surrender, Inner Intelligence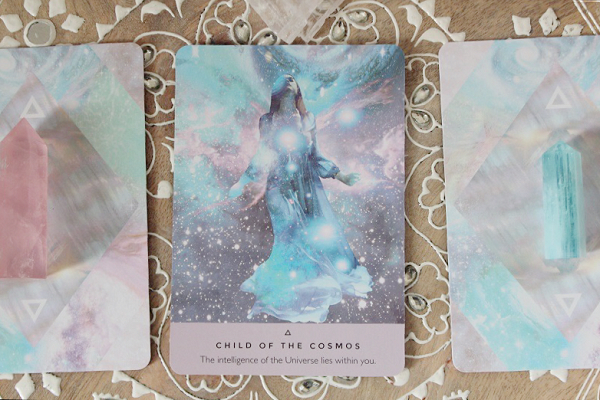 There is so much you already know, and remembering it depends on your ability to surrender to it and silence your chattering mind. You are likely prone to overthinking, over-analyzing, or you tend to doubt what you know. Today you are being reminded to remember that you are a child of God, of the Universe, and thus contain all knowledge within you. Notice how right now the trees are budding and blooming (or leaves are goldening), guided by a mysterious force, an inner knowing that exists in all lifeforms. This same intelligence is within you, you know how to bloom, you can access this wisdom with stillness.
You don't have to search so much, you don't have to go to different teachers, psychics, astrologers, looking for answers. Right now you need to acknowledge your own sovereignty. This card can appear if you are recently awakening to this truth, finding more trust, opening to your higher intuition. And yes, you can use this to help guide others.
This card is calling you to trust what you know and trust that your life is unfolding as intended for you to learn lessons that are ultimately the most valuable for you. The same intelligent force guides your life when you become receptive to it. Instead of trying to take in more information, meditate more and see what insights arise to the surface.
Card #3 – The Great Severing
Anger, Frustration, Conflict, Softening to love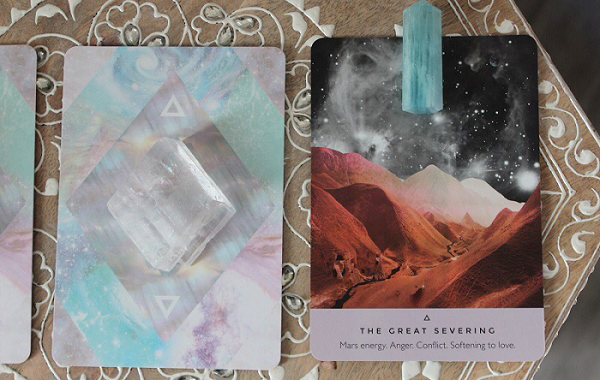 Intense emotions are coming to the surface now and the Universe wants to remind you to soften and find your way back to love. Now is the time to acknowledge difficult emotions and the situations, conflicts, wounds and fears that cause you pain and anxiety.
Many people right now have had to slow down and are pulled away from their normal routines. With more time to yourself it is forcing you to acknowledge habits, areas of life, or perhaps relationships that have been causing you frustration. You might even be shut in with people who you have a lot of conflict with! But overall, your disappointments and pain is starting to harden you, overwhelm you, and you're losing that light and loving quality.
The next time you find yourself getting reactive or triggered, pause and really try to get to the bottom of your feelings. Is it memories of a past event? Is it a feeling of lack of control? Is it fear? If we are not mindful of why we are hurting, we tend to inflict wounds on others.
In short, this card indicates some shadow work that needs to be done in order to move into the next lighter, brighter phase of life.
I hope you enjoyed this little card pull, hopefully it resonated!
Stay well,