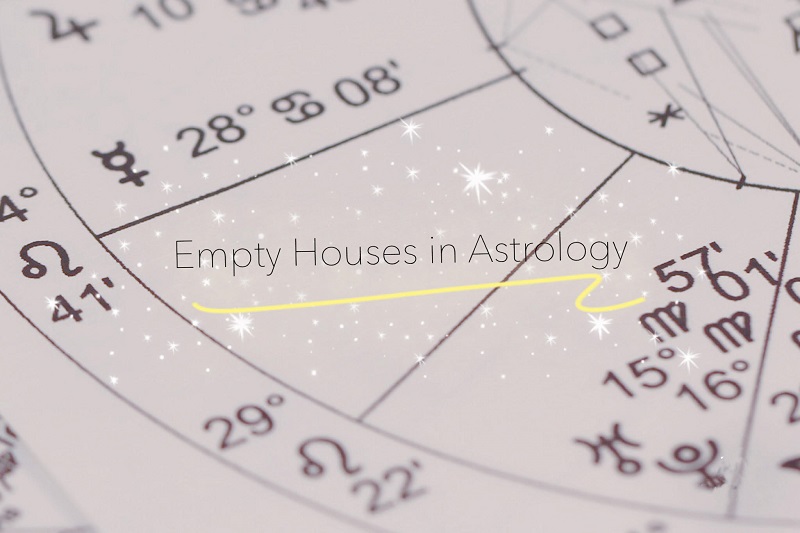 I see the question of empty houses in the birth chart come up a lot, so I decided to address it. Since this is a somewhat rudimentary question, I'll cover some of the basics. But, even those who have been learning Astrology for a while can wonder how to read a house if it is unoccupied by planets.
The 12 houses represent different areas of life, and each of them are important and influenced whether or not they are occupied with planets. Empty houses are strongly activated by transits, dasas (planetary time periods) progressions, and by the house ruler.
Just like different people choose to invest in different areas of life, this is reflected in the birth chart. But, it's more complicated than that. You will be involved in all areas of life to some degree, but some will have greater karmic implications.
Is it Bad to Have Empty Houses in the birth chart?
Having an empty house doesn't make it "bad" or any less important. For example, if your 7th house is empty, that doesn't mean relationships are any less special or important. Depending on the planet and house in question, it can be preferable to have it empty.
So, how does a person gain information about a house if there are no planets in it?
Like this:
Every House Has a Ruling Planet
Rulership is a significant part of house judgment, regardless if the house has a planet in it or not. The placement of the ruling planet and the strength/dignity of said planet gives so much information on whether that area of life unfolds with ease, difficulty, or what it is connected to.
If you are unfamiliar with "rulership" here is an example: if your 4th house is in Taurus, then Venus is the ruler/lord of your fourth house. The strength and location of Venus will then give information on 4th house matters (home, family, mother, internal peace). If your 7th house is in Gemini, then Mercury becomes the ruler of your 7th house and the location of Mercury provides information on the nature of your relationships.
So, if your house is empty, where is the ruling planet located? Whichever house it falls in, will give you information about that empty house. Obviously, this requires having a solid understanding of the meaning of each house.
Always Check Aspects To Houses
Unoccupied houses can receive aspects from the planets. These rays of influence strongly affect the houses. Think about the meaning of each of the planets and how they are integrating with the houses they aspect. For example, Mercury gives curiosity and skill towards the houses it aspects. Jupiter blesses the house it aspects with growth and wisdom. Mars brings determination – you'll put a lot of energy towards the house under the aspect of Mars. If you think about the house opposite of your Sun placement, you'll realize you have a natural intelligence and skill towards that house. Saturn will restrict the house it aspects – you may have a harder time manifesting the indications of that house, or trouble expressing the qualities of that house.
The chart calculator located here gives an aspect score to every house in the "aspects to Bhava Chalita" table.
Transits affect Houses
Just because a house is empty in your birth chart, doesn't mean it's going to be any less affected by planets transiting through it. When you have Jupiter transiting through your 3rd house, you're going to experience that consciousness of Jupiter in the 3rd. These may be temporary effects, but they still indicate periods where a house is going through a lot of growth.
In the event that a house is both un-aspected and unoccupied, a person won't really direct much attention towards that area of life until planets are transiting through it.
I hope this gives you a better understanding of how houses play a significant role in your birth chart, whether they have planets in them or not. Feel free to leave any questions in the comments.