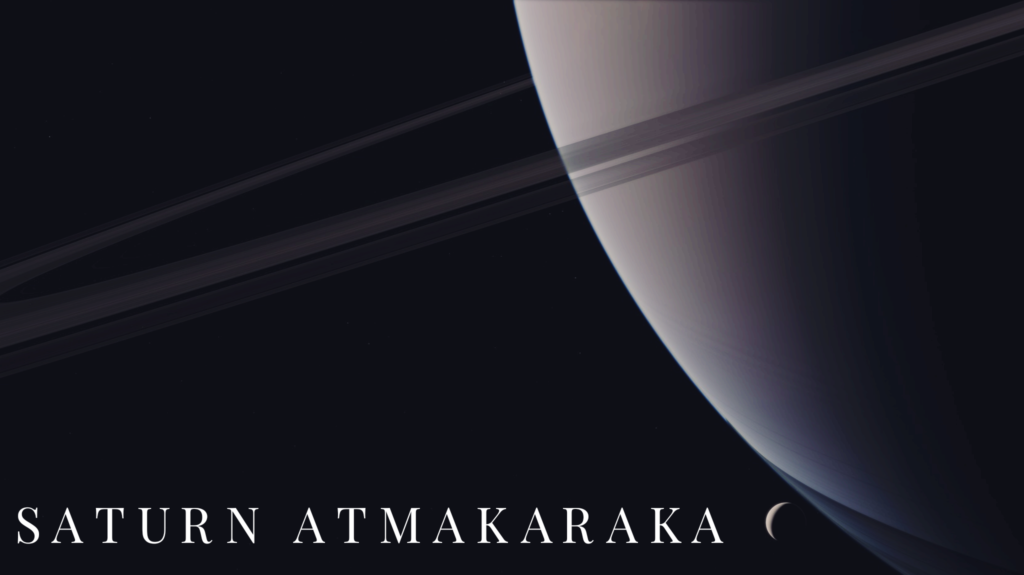 Thin and long-­bodied is Saturn, and yellow-­eyed, Vata natured, large toothbed, indolent, lame and having coarse hair, O' Twice
Born." -­Brihat Parashara Hora Shastra: Nature and Form of the Grahas,

Out of all the planets, Saturn is definitely the most misunderstood. If you only interpret Saturn as the harbinger of doom, you miss the gold that Saturn offers: the opportunity for self-improvement and refinement. It is the lessons of Saturn that save us from ourselves and bring transformation. Achieving anything in life always takes perseverance, sacrifice, and discipline, making Saturn a critical planet for accomplishing anything worthwhile.

Characteristics of Saturn Atmakaraka

If you have Saturn as your Atmakaraka, many of Saturn's qualities will be part of your nature. This Atmakaraka makes a person mature, even from a young age. Usually, there is something in childhood that gives a person more responsibility or keeps them from having a truly carefree childhood. It gives a person a very dutiful nature, making them some of the most reliable people you'll meet.

A strong Saturn gives the ability to spend a good deal of time alone. With Saturn as Atmakaraka, you'll feel comfortable with the alone time needed for intense study, practicing a skill or any long-term project. This gives the ability to meet goals (although sometimes slowly) and develop a high level of skill in their area of interest. There is a great capacity to work and serve.

People with Saturn as Atmakaraka often experience loss in their lives, or they witness a lot of suffering. Now, loss can come in many forms, so if you have Saturn as Atmakaraka please don't worry about an impending loss (if you haven't already experienced one). There are multiple other things to consider in a chart in order to tell what kind of loss it could be. Usually, it is a loss that is outside of your control.

Those with Saturn as their Atmakaraka tend to have some issues with fear, which could come from experiencing or witnessing loss and suffering. Saturn will make a person very aware of all the things that could potentially go wrong. This creates a personality that is prone to worrying.

Soul Lessons for Saturn as Atmakaraka

Saturn Atmakaraka gives a person the ability to endure suffering, even for the sake of other people. While this is a hallmark trait of a noble person, Saturn people can become so accustomed to dealing with hardship that they no longer try to get themselves out of it. Their sense of duty, ability to endure, and willingness to shoulder burdens make them stay in situations that aren't good for them.

If you have Saturn as your Atmakaraka, you need to let go of some of the unrealistic expectations you have of yourself. Because Saturn makes people aware of their limitations or "flaws" they can obsess about compensating for them and never living up to their rigid expectations.

Don't obsess about your weaknesses, and don't let your awareness of your weaknesses hold you back from pursuing something you want.