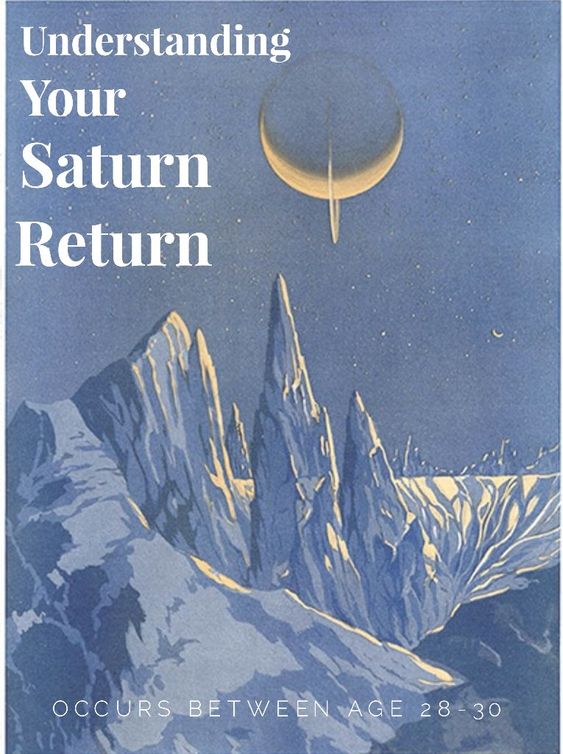 Growing up, in a way, is watching our illusions about life come crashing down. It's becoming accountable for our flaws and healing our childhood scars. It is realizing the work and sacrifices it takes to improve ourselves, meet goals, take care of responsibilities, or raise a child. The period of your Saturn Return, around the age 28-30, is when Saturn brings awareness to the areas in life where we need to be more responsible. Saturn does this by cashing in on karmic debts during this time.
Those who have neglected the house(s) that Saturn rules and resides in, this can be a difficult time. But, believe me when I say that a difficult first Saturn return is often a blessing. Imagine lots of built-up karma being scrapped away, leading to tremendous growth and a clean slate. During this time, life becomes your Guru, and once you get past the struggle you'll emerge a better version of yourself.
Saturn Returns can also be an extremely rewarding perioid. How well you've met your responsibilities, how accountable you are, and your receptivity to what life is trying to show you will say a lot about how your Saturn Return plays out. Whether it goes smoothly or not, know that it is bringing you closer to the person you're meant to be.
How to make the most of your Saturn Return
If you're currently in your Saturn Return, chances are you're working harder than ever before. This is a time when you are learning firsthand that nothing worthwhile comes free. Because achieving anything of value requires pushing through difficulty, Saturn holds the key to your own greatness. Many people do discover their potential during this time because life forces it out of them.
At the same time, Saturn also brings attention to habits and behaviors that are holding you back. Saturn is regarded as the planet that puts restriction and limits on us, but really it shows the ways we restrict life in ourselves. By looking at Saturn's placement in your chart, the sign it is in, and houses it rules, you'll understand what areas of life are restricting you.
Your Saturn Return brings you closer to your Dharma
Saturn return often marks an event that puts you on your life path. Many people finish higher education at this time, start their own business, or discover a new passion. This is when people really question their occupation in life, and if their job or career is aligning with what they really want to do. As people approach 30, they can't help but reflect on where the last decade has brought them.
I've also noticed that Saturn Returns are when people start to come to terms with their owns truths. You will act in a way that is truer to your authentic self. Depression is often caused when your actions aren't aligning with your true nature, or what you want out of life. During your Saturn Return you will start to look for opportunities that align with your "why."
Saturn Return in Different Houses
The houses that Saturn has a relationship with (lordship or placement) in your chart shows the areas of life you'll be learning most lessons and resolving issues:
1st: Lessons around the body/health of the body as well as life path/career. Endure the difficulty that comes up as you follow your dharma. Saturn's Return here can trigger a significant event on your life's path.
2nd: Lessons and growth around what you put into your body. Managing finances and debt will also come to the fore. Can you control your spending and use resources in a responsible way? During this time you can take on new financial responsibilities (mortgage, student loans, etc).
3rd: Developing greater willpower and self-effort needed to meet life's goals. Lessons on working with others (friends, peers, associates, etc). Lessons around keeping the right kind of company that progresses you on your path. Possible issues with associates.
4th: Inner peace and happiness, resolving issues within your family, emotional lack. Possibly relocation.
5th: Increased responsibility towards children, difficulty or setbacks with education.
6th Taking care of debts, dealing with health issues or physical ailments, can deal with pets as well. Can place a strain on your daily work routine.
7th Will need to focus on relationships. Issues with your marriage partner or business partners will need to be resolved. Social life could be lonely.
8th: Developing Emotional strength and security. If married, trouble with in-laws or gaining independence from in-laws.
9th: Events around higher education, marriage, and your teachers/mentors. Can trigger a shift in personal philosophy, ideals, attitude towards God.
10th: Affects professional reputation, bosses, and career. A change in career, loss of job, difficult bosses are all possible. This could also be a time where you take on new, meaningful work.
11th: Struggle to make gains in life, getting ahead and making money requires a lot of effort. Could also become cut-off from friends, move away from friends, or feel isolated.
12th: Saturn affecting the 12th house has to do with expenses. If you've neglected debt, it will come back for you. The positive side of this is you could pay off some debt during this time.