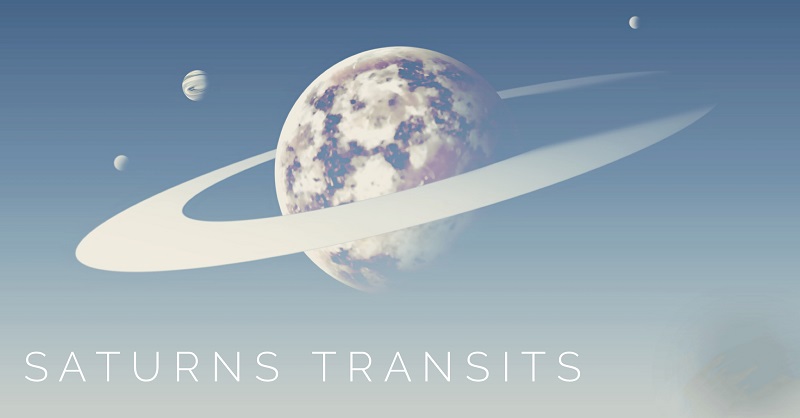 Saturn is the most misunderstood planet. What you'll most often hear is that it causing setbacks and hardship to the areas of life it touches, but it is much more than a harbinger of doom. Along with Jupiter, it is one of the two destiny planets, and Saturn transits transits cause many of life's biggest events.
Saturn is a powerful planet of manifestation and pushes us to do the work necessary to make things happen. Saturn is all Vata, and much like the element of air it moves and displaces things in our lives. The things that Saturn brings to your life will take discipline and hard work, but they can nonetheless be incredibly rewarding. Saturns transits can produce events like marriage (the final step in taking responsibility and solidifying a relationship) and it could also bring children. These are examples of life-changing events that Saturn helps trigger, and which introduces an incredible amount of responsibility into a person's life!
Saturn transits in your chart show what areas of life are currently being tested. In order to grow into a stronger person, Saturn separates you from your "crutches." You'll have to examine these areas and do the work required to refine and improve yourself.
Meaning of Saturn transits through all the houses:
Saturn Transits the 1st House
Saturn on your body, your vitality. Saturn on your life path.
Any time a planet crosses the ascendant it helps shape us into who we were meant to be. Saturn causes a great deal of personal growth through pressure and responsibility. As Saturn transits your ascendant you begin a whole new understanding of what it means to manage your time wisely. New circumstances will cause your free time to become scarce. It can be finishing a graduate degree, having a child, or starting a new business, but whatever it is – you will be pressed for time.
As Saturn transits the ascendant it also shows the limitations of your physical body, or that you may need to take extra care of your body. You'll feel tired more often, and if you don't take care of yourself while shouldering the extra responsibility, you can experience a great amount of stress or adrenal insufficiency. The effects of Saturn can also lower a person's self-esteem during this time.
If Saturn is transiting your 1st house, take heart – you'll get a much-needed break eventually. Use this time to establish your work/life balance or come up with some ideas that will allow you to get more "you" time.
Saturn Transits the 2nd House
Saturns transit to the 2nd house puts a focus on financial responsibility. You'll find yourself in situations that require frugality or paying down debt. Consequences of not handling money wisely will surface during this transit, giving you the opportunity to either deal with it and learn to spend more wisely or face problems down the road.
This is not just a transit of taking away money or restricting cash flow, Saturn can give money here, especially if your natal Saturn is strong, but typically the money earned will go towards things that are less fun and more about duties and responsibilities, such as student loans for instance.
During this time you need to evaluate how you spend your money and how you do your bookkeeping. Perhaps you don't need as much as you thought you do, or maybe it's time to start spending on long-term goals and not instant gratification.
The 2nd house also rules the food we eat, Saturn will make you examine the kinds of foods you put into your body.
Saturn Transits the 3rd House
When Saturn transits the third house it can make a person struggle with learning and education. Generally, this isn't a good time for siblings and friends either since the 3rd house shows our siblings and friendships. There could be a fallout, or it could just be a time when your siblings and/or friends are going through a rough patch.
The third house is also how we listen and communicate with others. There is a lot that happens on the inside as we listen and form our thoughts before speaking. Lessons about choosing words carefully and being mindful of how your words affect others come about during this time.
As the house of your willpower and self-effort, you can expect those to be tested.
Saturn Transiting the 4th House
When Saturn transits the 4th house it can cause a change in location or moving homes, as the fourth house is the house of your home life. Also, because Saturn is the planet of debt, you could be taking on debt due to purchasing a home. This is another example of Saturn manifesting a big event that isn't necessarily bad. Buying a home is usually an exciting time, but it does bring a lot of new responsibilities and expenses.
Aside from domestic affairs, your own inner world could be feeling gloomy. The 4th house is our "happy place" and Saturn here puts a damper on our inner peace and fulfillment. This is a time for introspection and realizing that your happiness is based on your subjective happiness and ability to choose to be happy.
This could be a stressful time for the mother, she could lose a job or switch jobs, or maybe is just overwhelmed with life. You may have to step in and help take care of her.
Saturn Transiting the 5th House
The 5th house also shows the mind, and Saturns transits in 5th will shift your mindset towards thinking about the responsibilities of adulthood. In general, you'll become more serious. As the house of creativity and romance, this time is less about romance but rather what the partnership needs to survive and thrive. What you do for fun or in your free time will be less about fun for fun's sake, and more about being creative in practical ways.
Since the 5th house is the house of children, and Saturn is all about triggering life-changing events and responsibilities, Saturn transiting the 5th can give you a child and all the new responsibilities that come with it! If you already have children, they'll be more demanding of your time and will need more from you.
Saturn Transiting the 6th House
Because the 6th house represents the work needed to achieve physical and material well-being, Saturn transiting the 6th affects health and work. You can begin a new job or position within your job that completely changes your daily routine.
This is the time when a person adopts the lifestyle or dietary changes they need to live longer healthier lives. A weaker immune system or digestion will raise new awareness to one's health, making a person realize they need to take better care of themselves.
Saturn Transiting the 7th House
The 7th house is our romantic relationships as well as our relationships with all other people, especially legal or business partnerships. Saturn here puts a strain on business partnerships, and you'll feel isolated from friends or people in general.
Saturns affect on romantic relationships and marriage will depend, but generally, it's not very conducive to romance. If your relationship has been on the rocks or you know it's not going anywhere, then Saturn will end it. If you're dating, this could be a dry spell, or you may attract an older or more mature partner. Saturn will give better results if it is your darakaraka (significator of spouse) or 7th lord.
As mentioned, Saturn triggers big events, and it is said that both an aspect from Jupiter and Saturn are needed to create a marriage. Saturn transiting the 7th can turn a relationship into a marriage. It makes sense, as you'll be taking on the responsibility of a new marriage partner or debts from a wedding. If you're already married, this is a period when the relationship is more about work and less play.
Saturn Transiting the 8th House
The 8th house represents other peoples wealth (such as inheritances), emotional security, death and other kinds of self-transformation. It also represents looking deeply into things, such as occult knowledge. You can undergo a major transition during this time. Thoughts of mortality and death will be on your mind.
During this time other people's money will be cut off from you – such as a parent or spouse. You won't be able to rely on others for financial support if you've become accustomed to it. There could be a death and inheritance during this time, though not as much as you hoped.
Saturn Transiting the 9th House
During this transit, you could start pursuing college or some other higher learning, though Saturn's effect will make your higher education a struggle.
The 9th house is also the house of dharma or higher purpose. When Saturn transits the 9th you may not be happy with the path you've chosen or question the path you're on. You'll spend more time thinking about what your beliefs are and what purpose to dedicate yourself to. Because the 9th house is your Guru or teacher, there could be a poor relationship with teachers or a general lack of guidance that you need in your life.
You will learn a lot about yourself and be attracted to subjects that raise your consciousness. If you hit this transit early in life, you may need to wait for the next one before you can really test yourself and your beliefs.
Saturn Transiting the 10th House
Saturn transiting the 10th house creates difficulty in the relations with your boss, and a lot of times causes a change in career. The 10th house is your public image and status, which is another reason why Saturn coming here can put your position in jeopardy. President Nixon resigned from office during this transit.
In general, you'll experience a delay in gratification in your career or while looking for a new job. Thankfully, Saturn really is the planet of "blessings in disguise" so if you do lose a job, this is a good time to put all your effort towards finding one that is more fulfilling. This transit can give you a whole new line of work!
Saturn Transiting the 11th House
The 11th house is our larger social circle as well as our hopes and wishes. When Saturn comes to the 11th house it can be a lonely time. Either you'll feel like you want to spend more time alone or you're just not talking to your friends as much as you use to. When Saturn was transiting my 11th house I moved away from everyone I knew, and no longer had any friends. Socially, it was a very lonely time.
It's also a hard time to making your hopes and wishes come true. You'll have to work through setbacks and may need to change your strategy or readjust goals. You can still meet your goals under this transit but Saturn will force you to be more realistic.
Saturn Transiting the 12th House
Transits to the 12th house always bring a resolution to something. It also gives something you've been waiting and waiting for, like a wish that has at least been fulfilled.
As Saturn enters the 12th it breaks you away from anything you've been clinging to that needs to end. Many people cling to relationships that aren't working or jobs that keep causing distress. Saturn comes to bring those things to an end, often painfully but for your own good.
The 12th house is also far away and "foreign" places. It's not uncommon for people to pack their bags and move to a totally new place, as though shedding their old life.
I hope you learned a lot from this series of Saturns transits through houses. If you are in a good position and know how to deal with Saturn well, then Saturn helps structure each area of life. This will set you up for success in the future. It is when you are not well adjusted to the issues of the house that it causes the most pain and frustration.